The Vinton County Democratic Party
Count down to Election day November 8, 2016
25 Reasons why Obama Won and We All Win!
"We the People..."
Welcome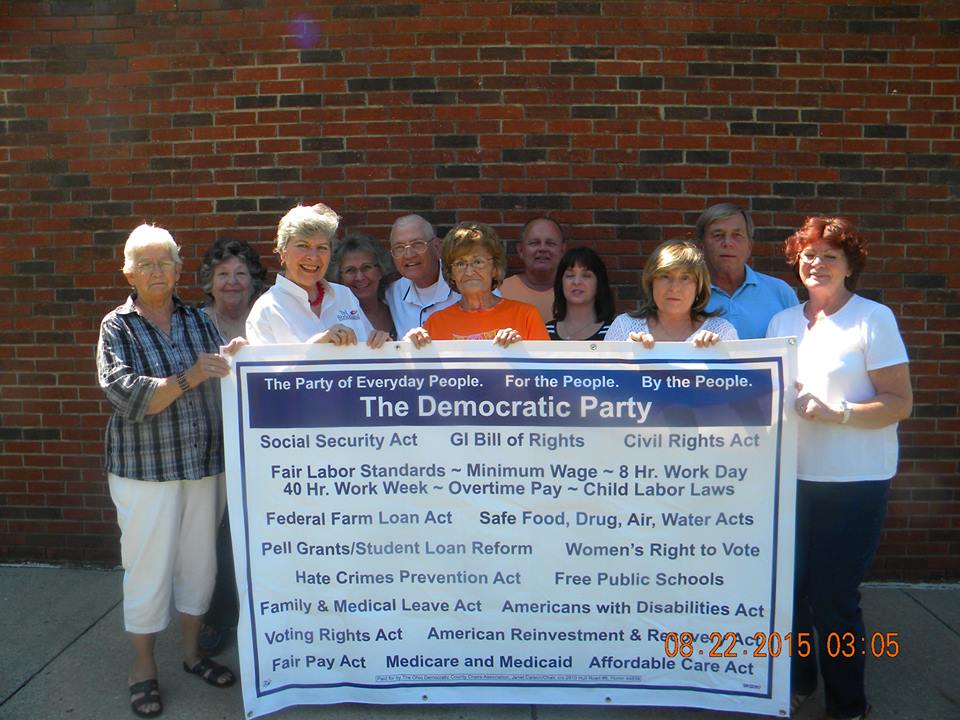 Congratulations to Kim Wortman for being elected the new Mayor of McArthur on November 3, 2015!
The Primary Election is March 15, 2016. Local Candidate Carol Porter is running as a Candidate for Vinton County Commissioner. Please vote this March 15! Your vote does make a difference!

We also want to thank Mrs. Strickland and Judge Paul Price for taking time from their busy schedules to meet, talk and listen to the concerns of the residents of Vinton County. Mrs. Strickland attended a VC Democratic meeting to promote Ted Stricklands run for Ohio Senate. For more information about Mr. Strickland be sure to visit his web site by clicking here! Candidate for Ohio Senator Ted Strickland

Judge Paul Price met with the group to share his qualifications for Candidate for Ohio Fourth District Court of Appeals. Be sure to visit his Facebook page by clicking here! Candidate for Fourth District Court of Appeals

Candidate for Ohio Representative Eddie Smith met with local residents to share his background and why he is the candidate of choice to represent the residents of Vinton County. Be sure to visit his website by clicking here! Eddie Smith - Candidate for Ohio RepresentativeTo find out more about the meeting with Vinton County residents click on this linkMeeting with VC DemocratsTo find out about Eddie's latest be sure to visit his Facebook page and say Hi!. Click here Eddie Smiths Facebook



We want to thank everyone for their hard work, commitment and contributions. You are the Difference! We are small - but we are mighty!





If you want to make a difference then please join us! We meet on the 4th Monday of every month. Our meeting location is the McArthur Community Building, 31935 State Route 93, McArthur, Ohio. Join us! We look forward to your contribution!





For more information about these upcoming events please contact Kim Wortman at 740-517-2640, Dinah Rupert - 740-590-3630, Leetha Toops - 740-418-8447, or Barb Deal at 740-596-4681.



Thanks for voting and supporting our local candidates and issues. Please be sure to check back with us often as we update our site with upcoming events, news and items of interest.

Vinton County Rocks!


Like Us on Facebook!



The Vinton County Democratic Party Committee




Featured Video

How Kasich "Deals" with people. Kasich demonstrates respect.






This is how Kasich "helps" Ohio. (SARCASM). He certainly wouldn't benefit the U.S.



Hillary's In!





Bernie's In!






Paid for by the friends of the Vinton County Democratic Party, Kim Wortman, Chairman, McArthur, Ohio 45651

e-mail: info@vintoncountydemocrats.org