Welcome



We want to thank everyone for their hard work, commitment and contributions. You are the Difference! We are small - but we are mighty!





If you want to make a difference then please join us! We meet on the 4th Monday of every month. Our meeting location is the McArthur Community Building, 31935 State Route 93, McArthur, Ohio. Join us! We look forward to your contribution!



For more information about these upcoming events please contact Dinah Rupert - 740-590-3630, Leetha Toops - 740-418-8447, Loretta Saylor - 740-596-5692 or Barb Deal at 740-596-4681.

Please be sure to check back with us often as we update our site with upcoming events, news and items of interest.
Vinton County Rocks!

The Vinton County Democratic Party Committee
Featured Video
How Kasich "Deals" with people. Kasich demonstrates respect.
Visit NBCNews.com for breaking news, world news, and news about the economy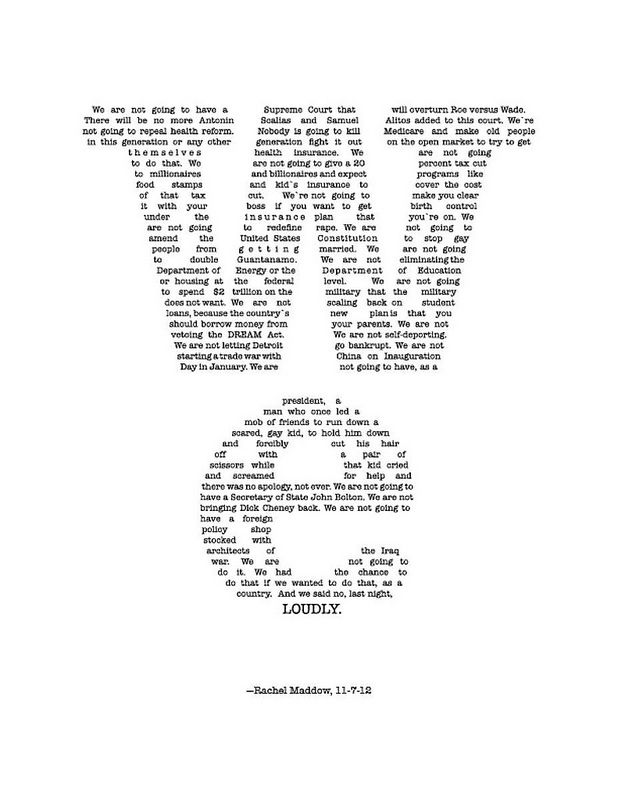 Upcoming Events
Important dates to remember: If you are not already registered to vote you must register to vote 30 days prior to the Election Day. Be sure your address is up to date with the board of elections. October 6 is the deadline to register to vote and to update voter information for the November 4, 2014 general election. November 1 (by noon) is the deadline for county boards of elections to receive an absentee ballot request by mail for the general election. The General Election Day Polls open on November 4, 2014 (from 6:30 a.m. to 7:30 p.m.) Be sure to bring identification with you. Be sure to know your proper polling location and precinct. Click on this link for Vinton County Polling locations:


Vinton County Polling Locations

For more information read the Welcome section on this page or call Nick Rupert (740) 357-0268. We look forward to seeing you!
Latest News
Vinton Daily- Vinton County Democrat Party hosts State and Local Candidates

Athens News - FitzGerald - why Ohio should fire Kasich

Vinton Daily - FitzGerald pledges support to Vinton County

Innovation Ohio - How's that JobsOhio program working? Since Kasich took office Ohio's employment rate lags behind the national average.

WLWT-How does Kasich save money? The Gender pay gap under Kasich

Huff Post - The Hypocrisy of the GOP

Cleveland.com -John Kasich's agenda works only for the most well off Ohioans

Huff Post -Debunking the Top 10 Most Egregious Republican Lies

Athens News - Rep Phillips - "Gov. Kasich ...need to make decisions based on what's best for the people of Ohio, rather than paying back campaign donors."

Think Progress - Republicans Don't Actually Want to Defund Affordable Care Act

NBC News - Even young Republicans Want Health Care

Pew Charitable Trusts - The answer is 4,400 - How many jobs did the Kasich administration create from 2012-2013? Did the administration create 50 NEW jobs for VC?

Vinton Daily -Phillips Slams Right to Work Bill!

Vinton Daily - VC Prosecutor - Drug Task Force Cooperation

Plunderbund -State Spending Could INCREASE over $10 Billion under Kasich - UPDATE the budget DID increase over $10 Billion under Kasich

Dispatch - Where is the money Kasich? And where are the jobs?

Important Links

Ed Fitzgerald For Governor 2014

Sharen Neuhardt for Lt. Governor 2014

Nina Turner for Secretary of State 2014

David Pepper for Ohio Attorney General 2014

John Carney for State Auditor 2014

Connie Pillich for State Treasurer 2014

Scott Wharton for US Congress 2014

Re-Elect Debbie Phillips for State Representative 2014

Josh Bailey for State Representative 2014

John O'Donnell for Ohio Supreme Court Justice 2014

Tom Letson for Ohio Supreme Court Justice 2014

Click here to Register to Vote Online
Click here for a Voter Registration Form
Vinton County Polling Locations
Vinton County Board of Elections

Paid for by the friends of the Vinton County Democratic Party, Nick Rupert, Chairman, New Plymouth, Ohio 45654

e-mail: info@vintoncountydemocrats.org